North Royalton City School District
"We Inspire and Empower Learners"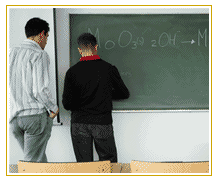 At North Royalton City Schools, students are the focal point in all that we do. Academic programs are designed to build and reinforce critical thinking, communication, collaboration and creativity. The district is ranked as one of the finest in the State of Ohio and the community takes pride in knowing the district is doing its best to prepare children for their future careers and to be outstanding contributing citizens to our society.
The district serves more than 4,200 students from the cities of North Royalton and Broadview Heights. There are three elementary schools — Albion (Grades K-4), Royal View (Grades Preschool-4), and Valley Vista (Grades K-4) — North Royalton Middle School (Grades 5-8); and North Royalton High School (Grades 9 to 12).
North Royalton City Schools offers the finest quality education while at the same time is fiscally responsible to the taxpayers. The district will continue to make sure that while operating on one of the lowest per pupil expenditures in the county, students receive the same quality education that the communities of North Royalton and Broadview Heights have come to expect. The district consistently receives the Auditor of State Award with Distinction for a "clean" financial audit report. This year marks the 24th time the district received the Certificate of Achievement for Excellence in Financial Reporting by the Government Finance Officers Association.
With the passage of a bond issue and a maintenance fund earmarked to maintain the buildings in May 2017, the district will build one new centralized elementary school, to be located on the 23 acres of district-owned property on the southwest corner of State Road and Valley Parkway. Funds also will be used to renovate the middle school for today's learning environments and renovate and rebuild the high school to focus on student-centered learning. A new 100,000 square foot section will be built onto the rear of the high school that will contain regular classrooms, science labs and other educational spaces.
Also, as part of the bond issue plan, there will be permanent improvement projects that will be completed throughout the next several years. At the middle school, this includes replacing roofing and HVAC units, redesigning the media center, updating technology infrastructure, as well as designing learning spaces for STEM and other areas of curriculum. At the high school, this includes renovating the 1970's and 1980's areas of the high school to include new science labs, media center, expanded space for music department, as well as installation of new HVAC, lighting, roofs, door, windows and safe and secure entrances. The full plan is available on the district website.
With a solid academic base developed at the elementary and middle school levels, students are well prepared to select either a challenging college preparatory and/or a comprehensive career preparatory program when they enter the high school. North Royalton High School offers 198 courses, 11 Advanced Placement courses and 19 Honors classes. The district provides outstanding special education and related services for students with disabilities, enrichment programs for students, as well as career-based education through the Cuyahoga Valley Career Center (CVCC).
The district offers an every day, all day kindergarten option in addition to its traditional half-time program. Elementary schools offer students many opportunities to expand their knowledge through special interest clubs and leadership programs. Middle school and high school students have the opportunity to participate in a wide range of intramural and interscholastic athletics as well as a large spectrum of clubs, leadership opportunities and scholastic achievement organizations.
Parents are encouraged to become actively involved in our schools. There is a PTA at all building levels and parents and residents serve in an advisory capacity to the administration through committees such as the Curriculum, Instruction and Assessment Committee, Business Advisory Council, Senior Citizen Advisory Council, Financial Advisory and Audit Committee and the Community Facilities Advisory Committee. Our Band Boosters, Choir Boosters and Athletic Boosters have raised thousands of dollars to support the athletic and music programs as well as supporting our students every time they march out onto the field or appear on a stage.
The North Royalton City Schools are dedicated to providing the education students need today to prepare them for the world of tomorrow. With the help and support of our community, we look forward to creating new levels of greatness.
For more information on the North Royalton City School District visit our website: www.northroyaltonsd.org. Find us on Facebook and Twitter
St. Albert the Great School
The mission of St. Albert the Great School is to enable its students to become knowledgeable Catholics while seeking academic excellence in an environment permeated with Gospel values. Currently educating 764 students in grades K-8, St. Albert's attempts to accommodate each child to grow and flourish according to his/her needs and abilities.
The school itself is considered to be an integral part of the parish as well as the community and is a vital force in aiding students to assimilate easily into society. One of the keys to its success is the close relationship that is fostered between school and home. Parents share as co-partners in the task of providing a well-balanced education for their child.
Through the efforts of the parent organizations, PTO, Music Patrons, and Athletic Boosters, students benefit through some exemplary programs and excellent educational materials. Recognizing today's technological advances, computers now integrate an ever-changing K-8 school curriculum.
Those parish children who attend public schools receive systematic religious instruction through the PSR, Parish School of Religion, held on Monday evenings each week during school year. Currently over 800 children are served through the PSR program.
In addition, the North Royalton City Schools provide assistance to the school through auxiliary services and learning disabilities programs. They work in a collaborative nature to meet children's needs in the quest for the best education of all the children in North Royalton.
Royal Redeemer Lutheran School
Higher Learning begins long before college. It begins by teaching children early on to reach for something higher. At Royal Redeemer Lutheran School, we hold ourselves to higher standards, set higher expectations for our students and our teachers, and believe in a Higher Purpose. We are committed to helping each child realize their God-given gifts, to discover the plan God has for their lives, and to strive for higher levels of excellence.
At Royal Redeemer, we are truly concerned about our students. We are dedicated to helping each student grow scholastically, socially, and spiritually. We combine an outstanding academic curriculum with the teaching of values such as honesty, forgiveness, kindness, respect, and compassion. We believe in educating the whole child in an environment that nurtures high self-esteem, encourages academic excellence, and builds character. Our Nationally Accredited School is supported by the many wonderful families that trust us to educate their children, as well as the great sports, organizations, and clubs that we offer. We have an active Parent Teacher Organization (PTO) that works to foster good relationships between teachers, children and parents, and provide many educational and fun family activities. In our Elementary School, we offer weekly Chapel, Bible Study, daily Devotions and Prayer time, Basketball, Track, Volleyball and Cheerleading as well as Ski and Math clubs, Band, Music, and Drama. The students are often preparing for a Spelling or Geography Bee, the upcoming Science and Engineering Fairs, working in our versatile Technology Lab, using the Interactive White Boards that are in each classroom, or are involved in a special ministry opportunity or service project that may tie into a learning lesson. Our highly respected Preschool program offers a variety of morning and afternoon classes for 3 year olds, 4 year olds, and Pre-k for 5 year olds. The preschool children spend their days learning through play, going on fun and educational field trips, are often involved in special art projects, are learning how to pray, and are constantly learning about Jesus and how He is their best friend! They help with special ministry projects by baking muffins at Thanksgiving time, donating their saved pennies for the less fortunate, and sending Christmas gifts to children who would otherwise not receive any! They put on a spectacular Christmas Story program and do other "performances" throughout the year. We currently serve over 450 students in our Parent & Tot 2 year old program, our preschool 3's, 4's, and Pre-K programs, and our Elementary and Middle School. We offer both half day and full day Kindergarten and 1st through 8th grades. We have an in-house Intervention and Enrichment Specialist that offers specific programs for children needing learning extension or support, a Speech and Language Pathologist, as well as Reading Intervention Specialists. They all work hard, as does the entire staff and administration, to make sure your child gets as personalized an education as possible in a safe and caring environment. To find out more about Royal Redeemer Lutheran School and how you can become involved, please contact our Admissions Counselor, Amy Hammer-Huber at 440-237-7988 ext. 126, or ahammer-huber@royred.org. Visit our website at www.royred.org and click on School Ministry.