City Government and Services
Hospital Health Care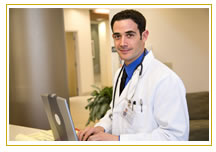 University Hospitals Parma Medical Center is a successful, not-for-profit medical center in Cleveland's most populous suburb. Founded in 1961 by six communities and operating as an independent hospital for more than 50 years, the 332-bed acute care medical center became part of the University Hospitals Health System in 2014. UH Parma Medical Center has more than 300 physicians in more than 30 specialties on its medical staff. Accredited by the Joint Commission, UH Parma Medical Center offers acute and subacute inpatient care including specialty centers for stroke, cardiac care, cancer, robotic surgery, orthopedics, pain management, acute rehabilitation and bariatric care. UH Parma Medical Center also has received national recognition for its orthopedics program and cardiovascular outcomes. As part of the University Hospitals health system, UH Parma Medical Center gives patients access to nationally renowned UH Cleveland Medical Center, which is perennially among the highest performers in national ranking surveys.
UH Parma Medical Centerís care extends far beyond its founding communities, with services including a wide range of outpatient and outreach programs. Radiology, physical therapy and laboratory services are available at multiple locations. A technologically advanced health care facility that was a leader in the region in implementing computerized patient records and electronic medication verification decades ago, UH Parma also was the first hospital in the state to implement telestroke, connecting ambulances in the field with the Emergency Department to expedite care of stroke patients.
A preferred provider for all major managed care plans, UH Parma Medical Center is a state-of-the-art facility in a close-to-home, friendly, community setting.
Back to Main Listing