City Government and Services
Police Department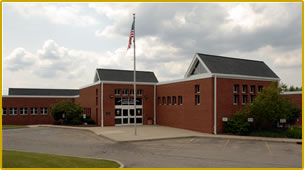 The Police Department is serviced and managed around-the-clock by full-time police officers, dispatchers and support personnel. State certified corrections officers operate the full-service jail facility, which contracts the housing of the other agencies' prisoners to offset operating costs.
The department provides full-time juvenile and detective services. The police department also provides a School Resource Officer with an office on the premises of the high school/middle school campus to assist with student counseling, truancy, security, traffic and other issues as may arise during the school day and at school sponsored events and functions.
A traffic division is responsible for traffic law enforcement and safety through the use of motorcycles and minimally marked cruisers. They are also responsible for safety education, accomplished in part by the officers teaching third grade safety belt classes, government classes, safety town and career days at local schools.
An animal control division is available on a full-time basis for enforcement of animal-related ordinances, animal-related education for residents of all ages, adoptive services for abandoned animals and rehabilitation of wildlife.
Along with the traditional police role, the department performs many community-oriented services on an ongoing basis, including in-home security surveys, block watch, safety town for preschoolers, kindergarten screening and fingerprinting, career days, government classes, and drug awareness education for parents and teachers. The department also has an active "Reserve" Officer program which maintains volunteers who patrol city parks and other areas and assist regular officers in handling traffic and other duties as needed. The members of the Police and Reserves sponsor local sports teams, underwrite scholarships to local high school students, purchase supplies for safety town and make donations to other local charities and organizations.
The North Royalton Police Department prides itself on its responsiveness to the ever changing needs of its citizens and the many cooperative efforts undertaken with the community.
Further information can be obtained by calling the Chief's office at 440-237-8686. For emergency response, dial 9-1-1.
Back to Main Listing