City Government and Services
Fire Department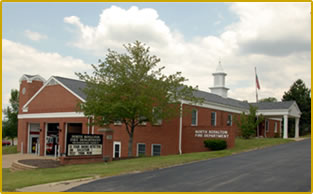 The North Royalton Fire Department is comprised of 33 full time, professionally trained Firefighter/Paramedics and Officers on three rotating twenty four hour shifts. The Chief, Assistant Chief, Administrative Assistant, and Part Time Fire Inspector comprise the administration of the department. All members are State Certified Paramedics enabling them to provide Advanced Cardiac Life Support (ACLS) and other skilled medical care to the community. Emergency response time to your home or business is generally four to eight minutes. A minimum of 8 firefighters are on duty 24 hours every day of the year.
Emergency response apparatus includes:
TWO FIRE ENGINES: Engine 1 – 2017 Rescue pumper with extrication and other specialized equipment; Engine 2 – 2003 Pumper
ONE LADDER Ladder 1 – 2017 Pierce 107' ladder truck with pump
THREE MEDIC UNITS: Medic 1 – 2019 Horton Advanced Life Support Medic Unit; Medic 2 – 2020 Horton Advanced Life Support Medic Unit; Medic 3 – 2011 Horton Advanced Life Support Medic Unit
ONE RESERVE MEDIC UNIT: Medic 4 – 2009 Horton
TWO UTILITY VEHICLES: Utility 1 – 2009 Ford F 250; Utility 2 – 2019 Chevy Silverado
Additional equipment in service allows for hazardous material response, water rescue, vehicle extrication and rope/high angle rescue. Numerous members of the department have selected specialized training in these areas and are also members of the Southwest Emergency Response Team (SERT). This team can respond into the community for specialized and technical rescue operations when dispatched. Fire Safety inspections are conducted by our State Certified Fire Safety Inspectors for commercial and industrial occupancies within the community. We have certified instructors that can teach CPR and First Aid refresher courses. Other programs that we offer are: child safety car seat inspections, Reflective Mailbox Address signs and Residential Lock Boxes. For more information on any of these programs, contact Kathy. .
Contact Information For additional information, please contact the Fire Department non emergency number at 440 237 4315, or for emergency response, dial 9 1 1 or 440 237 7989
Back to Main Listing