Welcome to the North Royalton Chamber of Commerce Online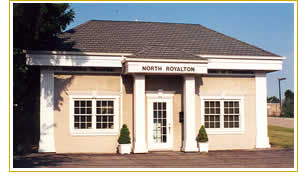 The North Royalton Chamber of Commerce offers a wealth of information for its area business members, residents and newcomers to our area. Our members enjoy networking, socializing and the benefits from our support and assistance.
The Chamber is the hub of our community, and its news publication, the Royalton Recorder, is the Heart of our Hometown!
WELCOME NEW CHAMBER MEMBERS!
Michelle Green, HER Realtors Michelle Green Professional Group
Rich Ganim, Angie's Pizza
Sharon and Leo Ciccotosto, Chloe's Consignment
Igor Bogdanovic, Cheetah Floor Systems, Inc.
Cyndi Quinn, Imagination Station
John Mangol, John Mangol Photography, LLC.
Kristi Pianka, Sublime Pet Spa
David Cannon, Stay-A-While Cat Shelter, Inc.
Sandra Montgomery, Wellness Consultant
Robyn and John Hakey, House Medic Handyman
Peter Martin, The Perkins Insurance Agency, Inc.
Ryan Haely, Haely Family Chiropractic, Inc.
Denise Crudup, Assisted Living Locators-Cleveland West
Shannyn Messina, Yoga Revolution CLE
Jimmy Martella, Trinel, Inc.
Patrick Healey, N.D., Paramount Health & Vitality, LLC
Chris Adams, Heartland Payment Systems
Steve Mattes, Mattes Landscaping, Inc.
Nicholas P. DeFazio and Rebecca Maddamma, DeFazio Companies, Inc.
Michelle Amann, Urbanography Studio Photography
Antonio Gallina, AT&T(In Home Expert)
Chamber Application
NORTH ROYALTON 2020 BUSINESS DIRECTORY
Need a service and want to shop locally? Here is the 2020 Business Card Directory. Keep it on hand, and use it often when you need a service and want to use a local professionals. Please support our local businesses.
BUSINESS DIRECTORY 2020
MEMBER NEWS
Promote Your Business with an E-Blast! Check Membership Directory/Member News for important accouncements.

URGENT NOTIFICATION RE COVID-19
Due to the COVID-19, Coronavirus, being declared a global pandemic by the World Health Organization, and the current climate of deep concern, the North Royalton Chamber of Commerce Board of Directors has decided to cancel the upcoming March 18 and April 15 Chamber luncheons. This has been done due to the seriousness and urgency of the current situation.
We are hoping this emergency will not last long, and trust that by joining others who are taking these necessary steps to do what we all can to mitigate the risk in our local community, we will be able to preserve as much of normal life as soon as possible.
The Chamber has added a link to Center for Disease Control (CDC). Please visit this site often for updates.
Our Chamber will keep you informed of any new developments. Most of all we wish you and your loved ones good health. Be Well!
Information from Centers for Disease Control CDC
SALUTE TO BUSINESS
The 2020 Salute to Business Booklet is now complete and mailed to a circulation of 16,000 homes and businesses. Let's give our local businesses a boost and salute them for all they do in our community. Check out the Salute to Business Word Search on Page 20, complete it and return to the Royalton Recorder for a chance to win a prize!
Salute to Business Program 2020
2021 North Royalton Business Directory Needs YOU!
Production of the 2021 North Royalton Business Directory is now in process. If you would like to promote your business by placing either an Ad and/or Business Card in the 2021 Business Directory, fill out the attached form and return it by November 13 to be included. The Business Directory is mailed to 16,000 homes and businesses; uploaded to the Chamber of Commerce Website; and the Royalton Recorder Website! Great Exposure for a very reasonable price!!
2021 Business Directory Order Form
Visit events listing for more info
Become a Featured Member through our Sponsors Program
See your business or organization prominently displayed within our website. Become a featured member through our new Sponsors Program. For complete details regarding ad specifications, sizes and pricing; contact info@nroyaltonchamber.com today!